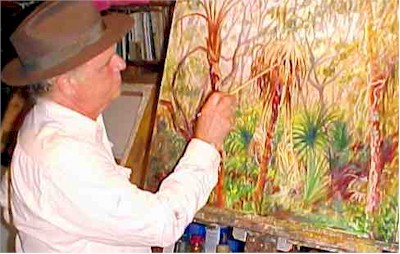 A Ringling School of Art graduate, Allain Hale has done work in publishing, illustration, advertising and animation since 1979. He is primarily known for his paintings and watercolors of South Florida's wild places.
A Florida native, he was born in Orlando in 1945 to a family of painters. Much of his subject matter is based on his visual experiences as an outings leader for the Sierra Club. His style is impressionistic, with an emphasis on the "impression of the moment, as seen directly through the artist's viewpoint." In the last 15 years, there has been increased demand for his abstract expressionism. A part of this site is devoted to that medium, under "Abstracts."
This website was created to help visitors select from what paintings are currently available from the artist. As the paintings are sold, their images are removed from the site. Allain also offers a line of signed and numbered prints, available for certain images only. A giclee print is an affordable way to own his work.
Allain's paintings are also available from these local galleries:
Jennie Smith Interiors, 2713 South MacDill Ave., Tampa, FL 33629, (813) 253-0225
Kelsey Keller & Assoc., 317 Willow Ave. North, Tampa, FL 34287, (813) 254-3867